Chamber Info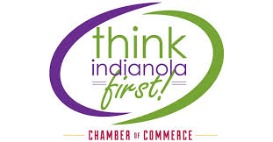 The Indianola Chamber of Commerce excels in its work to improve the economy and quality of life in Indianola and Warren County. In fact, most people would agree that the business climate and lifestyle of our area would not be as attractive without the efforts of the Chamber. The Chamber also concentrates on offering a broad spectrum of benefits and services to its members. Take a few moments to see what's available:
The Indianola Chamber wants to help expose, connect and grow your business! We recognize that you are busy and may not have the time or expertise to utilize the technology available through your Chamber investment. We have partnered with Chamber Nation, our technology partner, which connects you to a Chamber Assistant, who has the expertise and skills, you need to help document and tell your story worldwide.
You will have access to a Chamber Assistant ("CA") — a smart, highly trained, US-based point person who works remotely as your right hand and left brain to set up your local online presence. You delegate a display task and your CA is on it.
What does your CA do? Whether it's coordinating a time around your busy schedule to help you manage your online displays or helping keep your local online presence looking terrific—a CA will remove time-sinking, online administrative tasks off your plate so that you can focus on what's important.
Need to do some preliminary research in order to present your best products and services to prospects? Looking to create a one-time-use local golden ticket to drive new customers into your business? Your CA can review your business offerings, find the best options, and schedule a pre-view to see what you think and then let you get back to your work!
The Chamber can put you in touch with hundreds of people who could become new clients, customers or patients. Some of the dozens of events you can attend as a member to expand your contacts include:
"Wake Up, Indianola!" breakfasts - these monthly breakfasts are the place to be if you want to know what's going on in Indianola. Business news, city hall reports, and special presentations are just part of the morning program.
Committee and Task Force Meetings - participation in committee activities and working with others on major projects and events offers members additional opportunities to meet business and professional people with similar interests.
Special events - Community-wide and other special events throughout the year bring members together for both business and pleasure.
The Chamber receives thousands of requests each year for recommendations on goods and services to be purchased in the Indianola area. We refer only Chamber members to these newcomers, visitors and residents.
There's no better way to get your firm's name before the public and the business community than through Chamber membership. Available to members, at little or no cost are the following:
Newsletter publicity - our monthly Business and Industry Insight carries a list of all new members, as well as updates and accomplishments of our members and their businesses.
Ribbon cuttings - each member business is invited to sign up for a "Chamber Ribbon Cutting" visit by our Indianola Ambassadors to celebrate a grand opening, remodel or relocation. Ribbon cuttings include a photo of the event in The Record-Herald and Indianola Tribune.
Membership Directory Listings - all members receive free alphabetical and categorical listings in our Business Directory. This directory is distributed to every household in Indianola and is the primary source of reference for Chamber staff in answering requests from the public for referrals on goods and services in Indianola.
Promotional literature distribution - members can display brochures or other materials in the Chamber office at no cost, giving your firm exposures to thousands of residents and visitors who browse through our information center year-round.
Direct Mail promotion - The Chamber's mailing list and labels, available to members only, give direct access to a prime audience of business prospects.
Advertising opportunities - are available exclusively to members in our newsletters, Membership Directory, and newspaper advertisements.
Newsletter insert - This program allows Chamber members to reach all other members through our monthly mailings. Contact the Chamber office for details.
As you can plainly see, some of your best advertising opportunities are through membership in the Indianola Chamber!
Our mission is to foster a vibrant economic environment while enhancing the overall quality of life in our community.